Welcome to Subscribe On Youtube
Question
Formatted question description: https://leetcode.ca/all/222.html
Given the root of a complete binary tree, return the number of the nodes in the tree.
According to Wikipedia, every level, except possibly the last, is completely filled in a complete binary tree, and all nodes in the last level are as far left as possible. It can have between 1 and 2h nodes inclusive at the last level h.
Design an algorithm that runs in less than O(n) time complexity.
Example 1: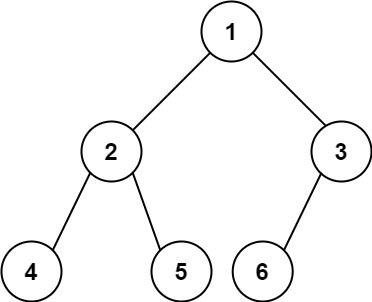 Input: root = [1,2,3,4,5,6]
Output: 6

Example 2:

Input: root = []
Output: 0

Example 3:

Input: root = [1]
Output: 1

Constraints:
The number of nodes in the tree is in the range [0, 5 * 104].
0 <= Node.val <= 5 * 104
The tree is guaranteed to be complete.
Algorithm
First, we need a getHeight function, which is used to count the maximum height of the left subtree of the current node.
Call the getHeight function on the current node to get the maximum height h of the left subtree. If returned is -1, it means that the current node does not exist and returns 0 directly.
Otherwise, call the getHeight function on the right child.

If the return value is h-1, it means that the left sub-tree is a perfect binary tree, and the number of nodes in the left sub-tree is 2^h-1. Adding the current node, there are 2^h in total, that is, 1<<h,

then, add the return value of calling the recursive function on the right child node.

If the return value of calling the getHeight function on the right subnode is not h-1, it means that the right subtree must be a perfect tree, and the height is h-1,

then the number of summary points is 2^(h-1) -1, plus the current node is 2^(h-1), that is, 1<<(h-1), and then add the return value of calling the recursive function on the left child node
Code



public

 

class

 

Count_Complete_Tree_Nodes

 

{


    

/**
     * Definition for a binary tree node.
     * public class TreeNode {
     *     int val;
     *     TreeNode left;
     *     TreeNode right;
     *     TreeNode(int x) { val = x; }
     * }
     */



    

public

 

class

 

Solution_optimize

 

{



        

public

 

int

 

countNodes

(

TreeNode

 

root

)

 

{



            

int

 

res

 

=

 

0

;


            

int

 

h

 

=

 

getHeight

(

root

);

 

// here h is actually h-1



            

if

 

(

h

 

<

 

0

)

 

return

 

0

;



            

if

 

(

getHeight

(

root

.

right

)

 

==

 

h

 

-

 

1

)

 

{


                

return

 

(

1

 

<<

 

h

)

 

+

 

countNodes

(

root

.

right

);


            

}

 

else

 

{

 

// getHeight(root.right) == h - 2


                

return

 

(

1

 

<<

 

(

h

 

-

 

1

))

 

+

 

countNodes

(

root

.

left

);


            

}


        

}



        

int

 

getHeight

(

TreeNode

 

node

)

 

{


            

return

 

node

 

!=

 

null

 

?

 

(

1

 

+

 

getHeight

(

node

.

left

))

 

:

 

-

1

;


        

}


    

}



    

public

 

class

 

Solution

 

{


        

public

 

int

 

countNodes

(

TreeNode

 

root

)

 

{


            

if

 

(

root

 

==

 

null

)

 

{


                

return

 

0

;


            

}



            

int

 

leftHeight

 

=

 

findLeftHeight

(

root

);


            

int

 

rightHeight

 

=

 

findRightHeight

(

root

);



            

if

 

(

leftHeight

 

==

 

rightHeight

)

 

{


                

return

 

(

2

 

<<

 

(

leftHeight

 

-

 

1

))

 

-

 

1

;


            

}



            

return

 

1

 

+

 

countNodes

(

root

.

left

)

 

+

 

countNodes

(

root

.

right

);


        

}



        

private

 

int

 

findLeftHeight

(

TreeNode

 

root

)

 

{


            

if

 

(

root

 

==

 

null

)

 

{


                

return

 

0

;


            

}



            

int

 

height

 

=

 

1

;



            

while

 

(

root

.

left

 

!=

 

null

)

 

{


                

height

++;


                

root

 

=

 

root

.

left

;


            

}



            

return

 

height

;


        

}



        

private

 

int

 

findRightHeight

(

TreeNode

 

root

)

 

{


            

if

 

(

root

 

==

 

null

)

 

{


                

return

 

0

;


            

}



            

int

 

height

 

=

 

1

;



            

while

 

(

root

.

right

 

!=

 

null

)

 

{


                

height

++;


                

root

 

=

 

root

.

right

;


            

}



            

return

 

height

;


        

}


    

}




}





############





/**
 * Definition for a binary tree node.
 * public class TreeNode {
 *     int val;
 *     TreeNode left;
 *     TreeNode right;
 *     TreeNode() {}
 *     TreeNode(int val) { this.val = val; }
 *     TreeNode(int val, TreeNode left, TreeNode right) {
 *         this.val = val;
 *         this.left = left;
 *         this.right = right;
 *     }
 * }
 */




class

 

Solution

 

{


    

public

 

int

 

countNodes

(

TreeNode

 

root

)

 

{


        

if

 

(

root

 

==

 

null

)

 

{


            

return

 

0

;


        

}


        

int

 

left

 

=

 

depth

(

root

.

left

);


        

int

 

right

 

=

 

depth

(

root

.

right

);


        

if

 

(

left

 

==

 

right

)

 

{


            

return

 

(

1

 

<<

 

left

)

 

+

 

countNodes

(

root

.

right

);


        

}


        

return

 

(

1

 

<<

 

right

)

 

+

 

countNodes

(

root

.

left

);


    

}



    

private

 

int

 

depth

(

TreeNode

 

root

)

 

{


        

int

 

d

 

=

 

0

;


        

for

 

(;

 

root

 

!=

 

null

;

 

root

 

=

 

root

.

left

)

 

{


            

++

d

;


        

}


        

return

 

d

;


    

}




}




// OJ: https://leetcode.com/problems/count-complete-tree-nodes/




// Time: O(H^2)




// Space: O(H)




class

 

Solution

 

{


    

int

 

countLeft

(

TreeNode

 

*

root

)

 

{


        

int

 

cnt

 

=

 

0

;


        

for

 

(;

 

root

;

 

++

cnt

,

 

root

 

=

 

root

->

left

);


        

return

 

cnt

;


    

}


    

int

 

countRight

(

TreeNode

 

*

root

)

 

{


        

int

 

cnt

 

=

 

0

;


        

for

 

(;

 

root

;

 

++

cnt

,

 

root

 

=

 

root

->

right

);


        

return

 

cnt

;


    

}




public:


    

int

 

countNodes

(

TreeNode

*

 

root

)

 

{


        

if

 

(

!

root

)

 

return

 

0

;


        

int

 

left

 

=

 

countLeft

(

root

),

 

right

 

=

 

countRight

(

root

);


        

if

 

(

left

 

==

 

right

)

 

return

 

(

1

 

<<

 

left

)

 

-

 

1

;


        

return

 

countNodes

(

root

->

left

)

 

+

 

countNodes

(

root

->

right

)

 

+

 

1

;


    

}




};




# Definition for a binary tree node.
# class TreeNode:
#     def __init__(self, val=0, left=None, right=None):
#         self.val = val
#         self.left = left
#         self.right = right


class

 

Solution

:


    

def

 

countNodes

(

self

,

 

root

:

 

Optional

[

TreeNode

])

 

->

 

int

:


        

def

 

depth

(

root

):


            

d

 

=

 

0


            

while

 

root

:


                

d

 

+=

 

1


                

root

 

=

 

root

.

left


            

return

 

d



        

if

 

root

 

is

 

None

:


            

return

 

0


        

left

,

 

right

 

=

 

depth

(

root

.

left

),

 

depth

(

root

.

right

)


        

if

 

left

 

==

 

right

:


            

# left child subtree: (1<<left)-1


            

# plus root: +1


            

# so total except right subtree: (1<<left)


            

return

 

(

1

 

<<

 

left

)

 

+

 

self

.

countNodes

(

root

.

right

)


        

else

:

 

# left = right+1


            

return

 

(

1

 

<<

 

right

)

 

+

 

self

.

countNodes

(

root

.

left

)





############





'''
>>> 2 ** 3
8
>>> 3 ** 2
9
'''






# Definition for a binary tree node.
# class TreeNode(object):
#     def __init__(self, x):
#         self.val = x
#         self.left = None
#         self.right = None





class

 

Solution

(

object

):


  

def

 

getHeight

(

self

,

 

root

):


    

height

 

=

 

0


    

while

 

root

:


      

height

 

+=

 

1


      

root

 

=

 

root

.

left


    

return

 

height



  

def

 

countNodes

(

self

,

 

root

):


    

count

 

=

 

0


    

while

 

root

:


      

l

,

 

r

 

=

 

map

(

self

.

getHeight

,

 

(

root

.

left

,

 

root

.

right

))


      

if

 

l

 

==

 

r

:


        

count

 

+=

 

2

 

**

 

l


        

root

 

=

 

root

.

right


      

else

:


        

count

 

+=

 

2

 

**

 

r


        

root

 

=

 

root

.

left


    

return

 

count





/**
 * Definition for a binary tree node.
 * type TreeNode struct {
 *     Val int
 *     Left *TreeNode
 *     Right *TreeNode
 * }
 */




func

 

countNodes

(

root

 

*

TreeNode

)

 

int

 

{


	

if

 

root

 

==

 

nil

 

{


		

return

 

0


	

}


	

left

,

 

right

 

:=

 

depth

(

root

.

Left

),

 

depth

(

root

.

Right

)


	

if

 

left

 

==

 

right

 

{


		

return

 

(

1

 

<<

 

left

)

 

+

 

countNodes

(

root

.

Right

)


	

}


	

return

 

(

1

 

<<

 

right

)

 

+

 

countNodes

(

root

.

Left

)




}





func

 

depth

(

root

 

*

TreeNode

)

 

(

d

 

int

)

 

{


	

for

 

;

 

root

 

!=

 

nil

;

 

root

 

=

 

root

.

Left

 

{


		

d

++


	

}


	

return




}




/**
 * Definition for a binary tree node.
 * function TreeNode(val, left, right) {
 *     this.val = (val===undefined ? 0 : val)
 *     this.left = (left===undefined ? null : left)
 *     this.right = (right===undefined ? null : right)
 * }
 */




/**
 * @param {TreeNode} root
 * @return {number}
 */




var

 

countNodes

 

=

 

function

 

(

root

)

 

{


    

const

 

depth

 

=

 

root

 

=>

 

{


        

let

 

d

 

=

 

0

;


        

for

 

(;

 

root

;

 

root

 

=

 

root

.

left

)

 

{


            

++

d

;


        

}


        

return

 

d

;


    

};


    

if

 

(

!

root

)

 

{


        

return

 

0

;


    

}


    

const

 

left

 

=

 

depth

(

root

.

left

);


    

const

 

right

 

=

 

depth

(

root

.

right

);


    

if

 

(

left

 

==

 

right

)

 

{


        

return

 

(

1

 

<<

 

left

)

 

+

 

countNodes

(

root

.

right

);


    

}


    

return

 

(

1

 

<<

 

right

)

 

+

 

countNodes

(

root

.

left

);




};







/**
 * Definition for a binary tree node.
 * public class TreeNode {
 *     public int val;
 *     public TreeNode left;
 *     public TreeNode right;
 *     public TreeNode(int val=0, TreeNode left=null, TreeNode right=null) {
 *         this.val = val;
 *         this.left = left;
 *         this.right = right;
 *     }
 * }
 */




public

 

class

 

Solution

 

{


    

public

 

int

 

CountNodes

(

TreeNode

 

root

)

 

{


        

if

 

(

root

 

==

 

null

)

 

{


            

return

 

0

;


        

}


        

int

 

left

 

=

 

depth

(

root

.

left

);


        

int

 

right

 

=

 

depth

(

root

.

right

);


        

if

 

(

left

 

==

 

right

)

 

{


            

return

 

(

1

 

<<

 

left

)

 

+

 

CountNodes

(

root

.

right

);


        

}


        

return

 

(

1

 

<<

 

right

)

 

+

 

CountNodes

(

root

.

left

);


    

}



    

private

 

int

 

depth

(

TreeNode

 

root

)

 

{


        

int

 

d

 

=

 

0

;


        

for

 

(;

 

root

 

!=

 

null

;

 

root

 

=

 

root

.

left

)

 

{


            

++

d

;


        

}


        

return

 

d

;


    

}




}




use

 

std

::

cell

::

RefCell

;




use

 

std

::

rc

::

Rc

;





impl

 

Solution

 

{


    

pub

 

fn

 

count_nodes

(

root

:

 

Option

<

Rc

<

RefCell

<

TreeNode

>>>

)

 

->

 

i32

 

{


        

if

 

let

 

Some

(

node

)

 

=

 

root

 

{


            

let

 

node

 

=

 

node

.borrow

();


            

let

 

left

 

=

 

Self

::

depth

(

&

node

.left

);


            

let

 

right

 

=

 

Self

::

depth

(

&

node

.right

);


            

if

 

left

 

==

 

right

 

{


                

Self

::

count_nodes

(

node

.right

.clone

())

 

+

 

(

1

 

<<

 

left

)


            

}

 

else

 

{


                

Self

::

count_nodes

(

node

.left

.clone

())

 

+

 

(

1

 

<<

 

right

)


            

}


        

}

 

else

 

{


            

0


        

}


    

}



    

fn

 

depth

(

root

:

 

&

Option

<

Rc

<

RefCell

<

TreeNode

>>>

)

 

->

 

i32

 

{


        

if

 

let

 

Some

(

node

)

 

=

 

root

 

{


            

Self

::

depth

(

&

node

.borrow

()

.left

)

 

+

 

1


        

}

 

else

 

{


            

0


        

}


    

}




}