Welcome to Subscribe On Youtube
Question
Formatted question description: https://leetcode.ca/all/157.html
Given a file and assume that you can only read the file using a given method read4, implement a method to read n characters.
Method read4:
The API read4 reads four consecutive characters from file, then writes those characters into the buffer array buf4.
The return value is the number of actual characters read.
Note that read4() has its own file pointer, much like FILE *fp in C.
Definition of read4:

    Parameter:  char[] buf4
    Returns:    int

buf4[] is a destination, not a source. The results from read4 will be copied to buf4[].

Below is a high-level example of how read4 works: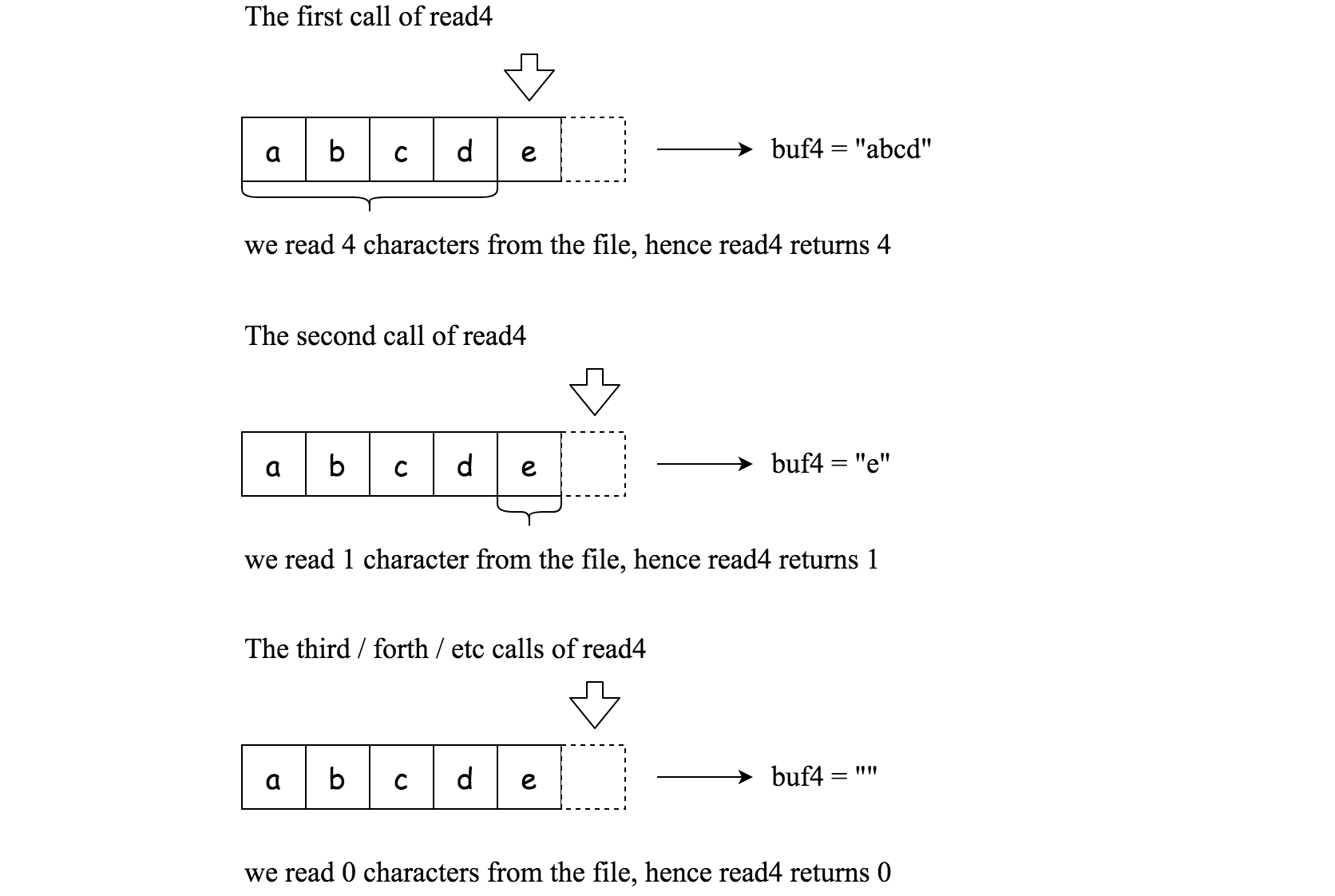 File file("abcde"); // File is "abcde", initially file pointer (fp) points to 'a'
char[] buf4 = new char[4]; // Create buffer with enough space to store characters
read4(buf4); // read4 returns 4. Now buf4 = "abcd", fp points to 'e'
read4(buf4); // read4 returns 1. Now buf4 = "e", fp points to end of file
read4(buf4); // read4 returns 0. Now buf4 = "", fp points to end of file

Algorithm
Read every 4, and then judge the results,
If it is 0, it means that the buf has been read at this time, and the loop is jumped out, and the smaller value of res and n is directly returned.
Otherwise, keep reading until n characters are read, the loop ends, and finally the smaller value of res and n is returned
Code



public

 

class

 

Read_N_Characters_Given_Read4

 

{


    

public

 

class

 

Solution

 

extends

 

Reader4

 

{


        

/**
         * @param buf    Destination buffer
         * @param n     Maximum number of characters to read
         * @return      The number of characters read
         */




        

public

 

int

 

read

(

char

[]

 

buf

,

 

int

 

n

)

 

{


            

boolean

 

isEof

 

=

 

false

;


            

int

 

charsRead

 

=

 

0

;


            

char

[]

 

buf4

 

=

 

new

 

char

[

4

];



            

while

 

(!

isEof

 

&&

 

charsRead

 

<

 

n

)

 

{


                

int

 

size

 

=

 

read4

(

buf4

);


                

if

 

(

size

 

<

 

4

)

 

{


                    

isEof

 

=

 

true

;


                

}



                

if

 

(

charsRead

 

+

 

size

 

>

 

n

)

 

{


                    

size

 

=

 

n

 

-

 

charsRead

;


                

}



                

/*
                        arraycopy(Object src,  int  srcPos,
                                  Object dest, int destPos,
                                  int length);
                 */


                

// if last iteration and size==0, then copy length==0, not over-copy


                

System

.

arraycopy

(

buf4

,

 

0

,

 

buf

,

 

charsRead

,

 

size

);


                

charsRead

 

+=

 

size

;


            

}



            

return

 

charsRead

;


        

}



    

}



    

private

 

class

 

Reader4

 

{


        

public

 

int

 

read4

(

char

[]

 

buf4

)

 

{


            

return

 

1

;

 

// stub


        

}


    

}




}





############





/**
 * The read4 API is defined in the parent class Reader4.
 *     int read4(char[] buf4);
 */





public

 

class

 

Solution

 

extends

 

Reader4

 

{


    

/**
     * @param buf Destination buffer
     * @param n   Number of characters to read
     * @return    The number of actual characters read
     */


    

public

 

int

 

read

(

char

[]

 

buf

,

 

int

 

n

)

 

{


        

char

[]

 

buf4

 

=

 

new

 

char

[

4

];


        

int

 

i

 

=

 

0

,

 

v

 

=

 

5

;


        

while

 

(

v

 

>=

 

4

)

 

{


            

v

 

=

 

read4

(

buf4

);


            

for

 

(

int

 

j

 

=

 

0

;

 

j

 

<

 

v

;

 

++

j

)

 

{


                

buf

[

i

++]

 

=

 

buf4

[

j

];


                

if

 

(

i

 

>=

 

n

)

 

{


                    

return

 

n

;


                

}


            

}


        

}


        

return

 

i

;


    

}




}




// OJ: https://leetcode.com/problems/read-n-characters-given-read4/




// Time: O(N)




// Space: O(1)




// Forward declaration of the read4 API.




int

 

read4

(

char

 

*

buf

);




class

 

Solution

 

{




public:


    

/**
     * @param buf Destination buffer
     * @param n   Number of characters to read
     * @return    The number of actual characters read
     */


    

int

 

read

(

char

 

*

buf

,

 

int

 

n

)

 

{


        

int

 

cnt

 

=

 

0

;


        

while

 

(

cnt

 

<

 

n

)

 

{


            

int

 

x

 

=

 

read4

(

buf

 

+

 

cnt

);


            

if

 

(

!

x

)

 

break

;


            

cnt

 

+=

 

x

;


        

}


        

cnt

 

=

 

min

(

cnt

,

 

n

);


        

buf

[

cnt

]

 

=

 

'\0'

;


        

return

 

cnt

;


    

}




};




"""
The read4 API is already defined for you.

    @param buf4, a list of characters
    @return an integer
    def read4(buf4):

# Below is an example of how the read4 API can be called.
file = File("abcdefghijk") # File is "abcdefghijk", initially file pointer (fp) points to 'a'
buf4 = [' '] * 4 # Create buffer with enough space to store characters
read4(buf4) # read4 returns 4. Now buf = ['a','b','c','d'], fp points to 'e'
read4(buf4) # read4 returns 4. Now buf = ['e','f','g','h'], fp points to 'i'
read4(buf4) # read4 returns 3. Now buf = ['i','j','k',...], fp points to end of file
"""






class

 

Solution

:


    

def

 

read

(

self

,

 

buf

,

 

n

):


        

"""
        :type buf: Destination buffer (List[str])
        :type n: Number of characters to read (int)
        :rtype: The number of actual characters read (int)
        """


        

i

 

=

 

0


        

buf4

 

=

 

[

0

]

 

*

 

4


        

v

 

=

 

5


        

while

 

v

 

>=

 

4

:


            

v

 

=

 

read4

(

buf4

)


            

for

 

j

 

in

 

range

(

v

):


                

buf

[

i

]

 

=

 

buf4

[

j

]


                

i

 

+=

 

1


                

if

 

i

 

>=

 

n

:


                    

return

 

n


        

return

 

i





############





# The read4 API is already defined for you.
# @param buf, a list of characters
# @return an integer
# def read4(buf):





class

 

Solution

(

object

):


  

def

 

read

(

self

,

 

buf

,

 

n

):


    

"""
    :type buf: Destination buffer (List[str])
    :type n: Maximum number of characters to read (int)
    :rtype: The number of characters read (int)
    """


    

cnt

 

=

 

0


    

tmp

 

=

 

[

""

]

 

*

 

4


    

while

 

cnt

 

<

 

n

:


      

r

 

=

 

read4

(

tmp

)


      

if

 

r

 

==

 

0

:


        

break


      

for

 

i

 

in

 

range

(

min

(

r

,

 

n

 

-

 

cnt

)):


        

buf

[

cnt

]

 

=

 

tmp

[

i

]


        

cnt

 

+=

 

1


    

return

 

cnt





/**
 * The read4 API is already defined for you.
 *
 *     read4 := func(buf4 []byte) int
 *
 * // Below is an example of how the read4 API can be called.
 * file := File("abcdefghijk") // File is "abcdefghijk", initially file pointer (fp) points to 'a'
 * buf4 := make([]byte, 4) // Create buffer with enough space to store characters
 * read4(buf4) // read4 returns 4. Now buf = ['a','b','c','d'], fp points to 'e'
 * read4(buf4) // read4 returns 4. Now buf = ['e','f','g','h'], fp points to 'i'
 * read4(buf4) // read4 returns 3. Now buf = ['i','j','k',...], fp points to end of file
 */





var

 

solution

 

=

 

func

(

read4

 

func

([]

byte

)

 

int

)

 

func

([]

byte

,

 

int

)

 

int

 

{


	

// implement read below.


	

return

 

func

(

buf

 

[]

byte

,

 

n

 

int

)

 

int

 

{


		

buf4

 

:=

 

make

([]

byte

,

 

4

)


		

i

,

 

v

 

:=

 

0

,

 

5


		

for

 

v

 

>=

 

4

 

{


			

v

 

=

 

read4

(

buf4

)


			

for

 

j

 

:=

 

0

;

 

j

 

<

 

v

;

 

j

++

 

{


				

buf

[

i

]

 

=

 

buf4

[

j

]


				

i

++


				

if

 

i

 

>=

 

n

 

{


					

return

 

n


				

}


			

}


		

}


		

return

 

i


	

}




}